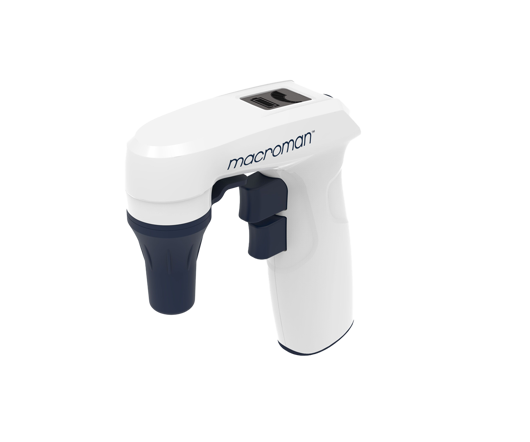 MACROMAN
MACROMAN is a portable, lightweight, and ergonomic pipette designed for precise and quick pipetting and dispensing of liquid. Equipped with a glass or plastic serological pipette, it allows liquid transfer from a container to another vessel from 0.1 to 100 mL.
Product Information
Side stand: unique feature that keeps the MACROMAN slightly elevated when laid down so that liquid doesn't seep into the pipette when serological pipette is attached.
LCD screen: information about battery and the aspiration/dispense speed.
Charging desk stand for best storage.
Lithium-Ion battery: modern, longer use and reduced charging time.
Two distribution modes: distribution speed adapts to the need of the scientist.
MACROMAN also offers a drop-by-drop option.
Optimum speed control: aspiration and dispense volume can be set up with both pressure sensitive trigger and thumbwheel while pipetting.
Product Specification
Weight
205g
Battery
Lithium-ion rechargeable battery 3.7 V/ 2800 mAh
Autoclavability
Nosepiece and silicone pipette adaptor (121°C, 20 min, 1 mPa)
Filter
PTFE, standard or sterile, hydrophobic membrane filter, 0.22 μm or 0.45 μm
Pipette types
Glass or plastic from 1 mL to 100 mL
Power supply
Input voltage: 100–240 VAC, 50/60 Hz, 0.3A
Output voltage
5 VDC, 500 mA Center positive DC connector
Certification
CE, UKCA, EMC, RoHS, WEEE