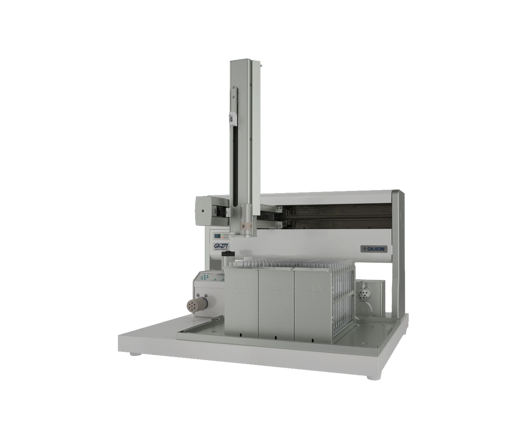 GX-series
Gilson liquid handling tools deliver the precise control you need for sample and reagent volume transfers, ensuring reproducible results while making life in the lab easier. Beginning with the legendary PIPETMAN® technology, Gilsons liquid handling tools have evolved with your needs. The Gilson GX-series fully automated liquid handlers is available in 4 different models. 
Product Information
GX-241:
The smallest model that fits a small bench space, perfect for labs with limited space. This features an injection volume between 20µL to 5mL and has space for two racks that can hold hundreds of samples ranging from 2mL vial to 100mm test tubes. The flexible platform can also hold up to 4 standard or deep well 96 well microplates.
GX-271:
This middle size is the most perfect instrument in terms of capacity versus bench space on the market today. The GX-271 features a large-bed capacity for different type of vessels (tubes, vials, microplates, bottles) while consuming only 23″ of linear bench space. The Z-arm can accommodate vessels over 200 mm in height. The new rinse station system incorporates a flowing jet wash and can accommodate up to two different solvents for less carry-over.
The GX-271 is perfect for small-to-large volume injection, fraction collection, and liquid handling capabilities. Its optional dynamic syringeless pumping system can deliver microliters to hundreds of milliliters, with no change in hardware.
GX-274:
This model is the same as the GX-271 but instead of 1 probe this has 4 making it possible to run 4 samples in parallel. This increases the throughput and efficiency of liquid transfers, serial dilutions, and other common tasks.  
GX-281:
The largest model that offers a versatile and large capacity platform that can be configured for injection, fraction collection, and re-injection as part of a semi-preparative or preparative HPLC purification system. It can also be used as a flexible liquid handler for performing a wide variety of automated, unattended liquid handling applications.