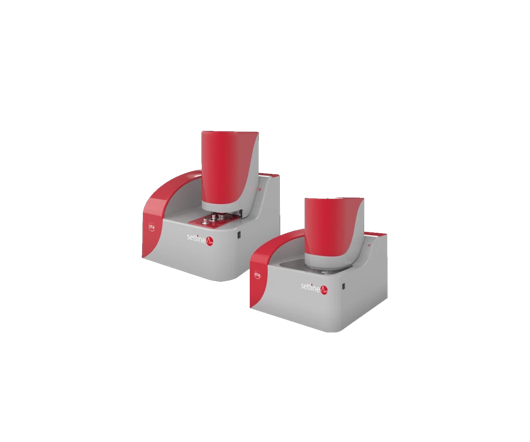 SETLINE® STA/STA+
Setline® facilitates simultaneous thermal analysis covering a range from room temperature to 1100°C, serving various academic and quality control requirements. Its durable construction, employment of DSC sensor technology, and compact form ensure consistent and dependable data. The space-efficient design offers tailored options to simplify utilization and accelerate proficiency. Setline® incorporates an automated sample handling mechanism through its STA+ robotic system. The Calisto 2.0 software enriches data analysis and manipulation, universally compatible with diverse instruments, divided into two functions: control/data acquisition (CALISTO ACQUISITION) and data processing (CALISTO PROCESSING) dedicated to Setline® STA/STA+.
Product Information
Conveniently designed robust balance and DSC sensor technology with an easy DSC sensor access and replacement.
Accessible instrument & sensor for easy, cost effective replacement. 
Lower cost of ownership through simplified maintenance and a replacement parts guarantee.
Technical & application support for fast expert help with any questions.
Calisto 2.0 exclusive software for intuitive and powerful data handling.
Product Specification
Temperature
Temperature range (°C)
RT* to 1 100
Programmable heating rate (°C/min)
0.01 to 50
Cooling time
45 min from 1 100 °C to 70 °C (air)
Atmosphere
Inert (N2, Ar, He**…) or oxidative (Air, O2…)
Gas flow range (ml/min)
10 to 100
Mass variation range (mg)
+/- 200 ; +/- 1 000
Mass variation resolution (μg)
0.05 ; 0.5
DSC rod resolution (μW)
2.5
Autosampler
SETLINE® STA -
SETLINE® STA+ 49 positions (samples or references)
General
Dimensions (Height - Width - Depth mm)
SETLINE® STA 600 - 400 - 500 
SETLINE® STA+ 800 - 500 - 650
Power requirements
230V - 50/60Hz