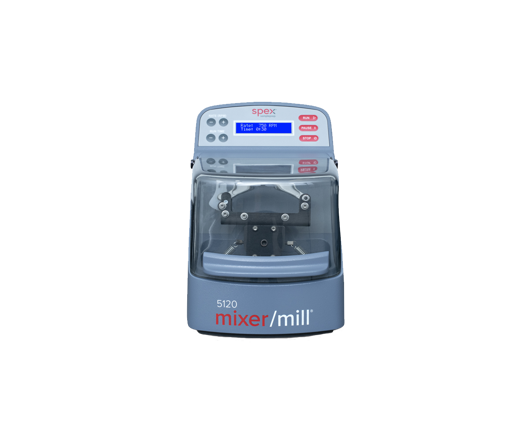 5120 Mixer/Mill®
The 5120 Mixer/Mill or Mini Mixer/Mill is a compact mill designed for small-scale sample preparation. Like its bigger counterparts 8000 Mixer/Mill it is ideal for pulverizing the toughest rocks, mineral, cement and ceramics. Rapidly reducing samples to analytical fineness; blending powders; and making emulsions. Finely grinding the sample increases the surface area to improve acid dissolution for ICP, and pellet pressing or fusion bead for XRF.
Typical applications: Mechanical alloying, Nanomilling, slurry grinding, blending powders, mixing emulsions and mechanochemistry.
Typical samples include: Rocks, Minerals, Sand, Cement, Slag, Ceramics, Catalyst Supports, Glass, Pharmaceuticals, Plant Tissue, Animal Tissues, Cannabis, Seeds, Paints and Inks.
Product Information
Interchangeable sample vial holders for agate, steel, and tungsten carbide vials.
High-intensity oscillating motion mills samples in seconds.
Programmable control panel includes rate, run time and pause functions.
Four speeds over the 750-3500 RPM range for slow-speed mixing to high-speed milling for tough samples.
Safety interlock stops the motor if the lid is opened during the homogenization process.
Clear lid for viewing the sample milling process
Can be operated remotely with a portable battery pack.