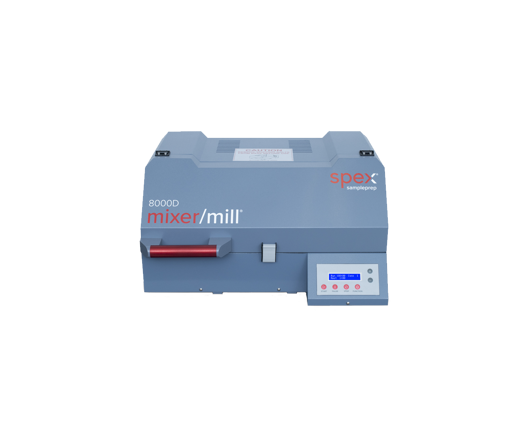 8000 Mixer/Mill®
The Mixer/Mill is a high-energy ball mill that grinds up to 0.2 - 10 grams of dry, brittle samples. It reduces samples to analytical fineness and can be utilized for mechanical alloying, slurry grinding, blending powders and mixing emulsions. Each grinding vial contains a sample and one or more balls. It is then shaken in a complex motion that combines back-and-forth swings with short lateral movements in the shape of a figure-8. The clamp's motion develops strong G-forces in the vial, to pulverize the toughest rocks, slags and ceramics.
The 8000D Mixer/Mill utilizes dual clamps whereas the 8000M Mixer/Mill utilizes a single clamp. Grinding and mixing vials are available in: hardened steel, stainless steel, tungsten carbide, alumina ceramic, zirconia ceramic, silicon nitride, agate, polystyrene, methacrylate, and polycarbonate. CE Approved. 
Applications include:Mechanical alloying, Nanomilling, slurry grinding, blending powders, mixing emulsions and mechanochemistry.
Typical samples include:Rocks, Minerals, Sand, Cement, Slag, Ceramics, Catalyst Supports, Glass, Pharmaceuticals, Plant Tissue, Animal Tissues, Cannabis, Seeds, Paints and Inks.