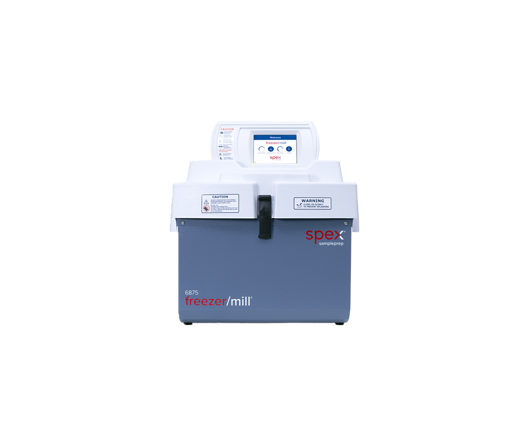 6875 Freezer/Mill®
The 6875 Freezer/Mill is a larger cryogenic grinder with a self-contained liquid nitrogen tub and insulated case.  It has one dual purpose chamber that precools and grinds samples from 0.1 to 100 grams. The grinding chamber holds one large grinding vial, one mid-sized vial, four small grinding vials, or four microvial sets.  Optional auto-fill system is available to automatically fill the bath with liquid nitrogen.
This model exist in a dual chamber version (Freezer/Mill 6875D). 
Typical samples include: Animal tissue, plastic and polymers, yeast, pharmaceuticals, food products, electronic components, textiles, hair, teeth, bones, plant tissue such as cannabis, seeds, leaves and roots.
Product Information
Liquid nitrogen required for operation. Equipped with liquid nitrogen level sensor, insulated case and lid safety interlock switch for operator protection.
Cryogenic grinding Vial Sets offered in a variety of materials including polycarbonate, stainless steel, and Cr-free steel.
Grinds samples in the 0.1 - 100 gram range. Cryogenic grinding chamber holds one large grinding vial, one mid-size vial, four standard grinding vials or four microvial sets.
Auto-Fill System available for automated filling with liquid nitrogen. Order model number 6875A Freezer/Mill.
Liquid nitrogen is required for operation. The sample's temperature is maintained because it NEVER leaves the enclosed liquid nitrogen bath.
Closed cryogenic grinding vial with impactor prevents sample cross-contamination. Grinding vials made of alternative materials are also available.