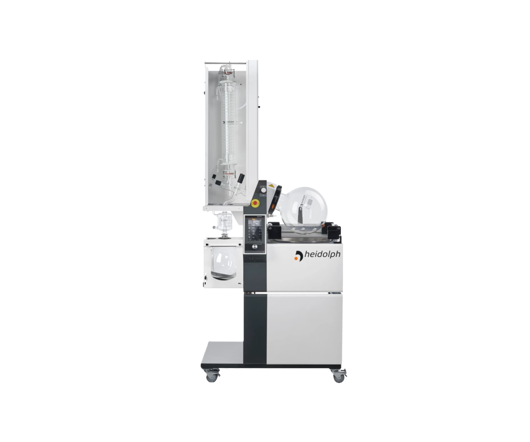 Large Scale Rotary Evaporators
The Heidolph large scale evaporators of the Hei-VAP Industrial series are perfectly designed for a great deal of different distilling processes, from standard evaporation without vacuum control up to complex distillation processes with vacuum control. Aspects such as safety, convenience and cost savings have been considerably taken into account during the development of the large-scale evaporators.
 
A temperature sensor powers off the bath in case of any uncontrolled heat-up event. The unique integrated evaporating flask support system allows for "one person operation" to remove the flask in just moments. The automatic water bath refill system along with an additional control panel for filling and electronics allow for use over an extended period of time.
Product Information
A factor of 3 times higher throughput compared to an 8h working day in manual operation. 
Automatic filling and refilling of the rotary flask, distillate and residue draining (in 24/7 packages), cleaning of the glass components and mediacarrying tubes as well as automatic feed to the heating bath. 
Complete efficiency and safety in unattended and continuous use. 
Calibration-free sensors of the automatic module reliably detect any medium.
Enabling and maintaining constant conditions for higher throughput. 
Automatic shutdown of all system components at the end of the process and in the event of a fault.
Course of the process displayed with pictograms and colors for clear identification of process progress. 
Multilingual user interface.
Individual process setting of the module through selectable operating modes (sensor, time, manual). 
Easy cleaning of the heating bath thanks to concealed heating coil and drain valve. 
Base cart with casters (optional) for easy accessibility.