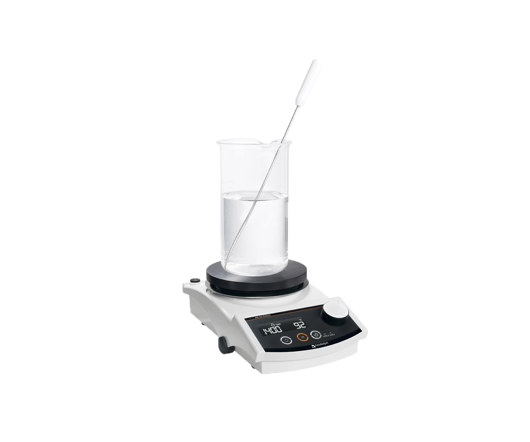 Magnetic Stirrers
Heidolph magnetic stirrers are traditionally among the daily lab helpers. Whether in research laboratories in major industries or at universities - everywhere, titration, synthesis or extraction is carried out with the need for the highest precision.
Whether with or without a heating function, all of our magnetic stirrers have one thing in common: a gentle yet powerful stirring function that makes it possible to mix up to 20 liters of low-viscosity media. In particular, the magnetic stirrer models with heating function impress with a sealed, refractory aluminium die-cast housing and a unique Kera-Disk® plate that combines the advantages of aluminium and ceramic. Each model also has its specific functionalities for your individual needs: from the analogue magnetic stirrer (Mix'n'Heat Core model) to the sophisticated model with timer function and various interfaces (Hei-Connect model), you will quickly find the Heidolph magnetic stirrer that suits you.
In addition, Heidolph offer you a range of necessary accessories as a system solution for pure stirring tasks (magnetic stirring bars), for precise temperature control (temperature sensor Pt1000), for replacing oil baths (Heat-On), for parallel reactions (StarFish) or for revolutionizing Reflux Reactions (Findenser™).
Product Information
The standard RS 232 interface of the MR Hei-Connect and MR Hei-End enables the documentation and controlling via PC. A free software is available on our website. 
The extended heating capacity of 800 W reduces heat-up times by 35 % compared to other units at 600 W.
The chemically resistant KeraDisk® hot plate allows for immediate heat transfer resulting in quick heat-up times.
In case the heating function fails, stirring will not be discontinued to prevent bumping.
A separate on/off button for heating prevents unintentional heatup – the button is illuminated for visual control. In addition, the residual heat indicator prevents from potential burning hazards.
Damage to the stirrer is categorically ruled out even if exposed to highest temperatures – all models come with a fire-resistant aluminum die-cast housing. 
In case of a short-circuit, a damage or removal of the temperature sensor from the media, the unit powers off completely.
The temperature sensor consists of two independent safety circuits which switches off heating in case of any overtemperature situation. 
Hermetically-sealed housing protects all mechanical and electronic components from aggressive environments.