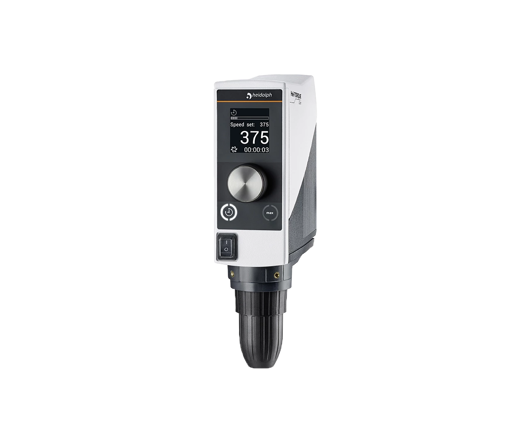 Overhead Stirrers
The very first laboratory equipment from Heidolph was the overhead stirrer RZR: affectionately named after the founder's name 'Rudolf Zinsser Rührer'. Since then, the overhead stirrer series has evolved enormously and, with its state-of-the-art engine technology, is the basis of an optimal stirring system.
From the compact Hei-TORQUE Core with 40 Ncm torque to the intelligent Hei-TORQUE Ultimate models (available in 100, 200 and 400 Ncm), all Heidolph overhead stirrers are very easy to operate. Equipped with the so-called Quick Chuck (quick-action chuck), it is easy to change the stirrer - without the need for extra tools. Depending on your application parameters, Heidolph can provide you with the right stirring tool.
Product Information
Newest motor generation for maximum power at minimum noise level - below 50 db.
An overtemperature sensor prevents heat-up situations particularly valuable in unattended continuous operation. 
Increased safety with individual performance control: Set the intensity of the starting operation, the maximum rotational speed, and the maximum torque limit according to your application. 
The sealed panel made of glass increases the tightness of the entire housing.
Safe start and stop of operation via slide touch panel to avoid unintended stirring USB and standard RS 232
interface for documentation and reproducibility. 
Reduce process times by utilizing unique VISCO JET® impellers for mixing gels and other challenging media with ease. 
Free Hei-Control software for all Hei-TORQUE Precision models to automate and to save all process parameters. 
Unique Quick-Chuck for immediate and convenient "one-hand" impeller changing - without tools. 
Sealed housing, which complies with the high protection class IP 54, guarantees longevity and maintenancefree 24-hour operation in an aggressive environment. 
The intuitive touch-panel made of glass for easy operation.